This world is full of many things that sounds very strange. We just shocked to see them. For example, if we talk about sculptures art. There are numbers of wonderful sculptures around the world.  Usually, sculptures are created as a symbol.
Some sculptures are just brilliant and are admirable as well. But sometimes we see such statues that really force us to think about them that what actually they are! Whats their meaning? Why they created. Sometimes we face some unique experiences. No doubt, the art of making statues is really a tough job and very intelligent artists do this.
So here we are going to show some weirdest sculptures around the world. Hope you will like it. While some of these statues are straightforward and easy to understand,  but yes some of them are rather very Outlandish. If you could understand the idea behind there creativity then share with us your thoughts in a comment section so that we can get the idea. So here is the list.
10. The Awakening Sculpture, USA
The Awakening Sculpture is really looked very wired. This interesting sculpture is at National Harbor in Maryland, USA, just outside the District Columbia. This Gaint Sculpture has many attractive impressions on a bearded face, trying to escape from the ground. 
9. Running Legs
Source
You can only see running leg in this statue. That's it. This is situated in Kanazawa, Japan.
8. Stabbed Alligator – New York
Source
Huge statues are so many but this alligator is very horrifying, no doubt lots of effort artists do while creating this statue. In this image, you can see that people try to kill this alligator. A silent message to hunters…
7. This statue sound creepy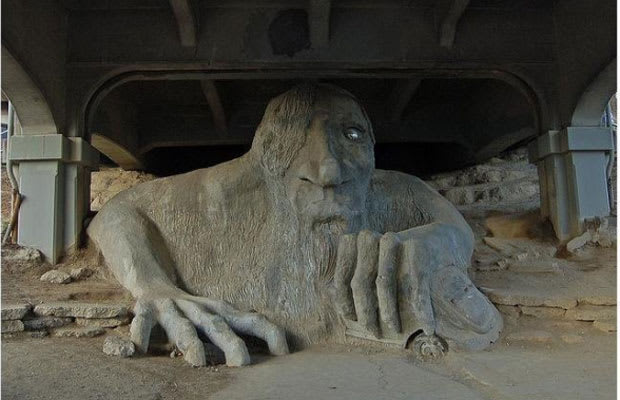 Source
Its very strange the only one eye make it so horrified.
6. Monument to Charles La Trobe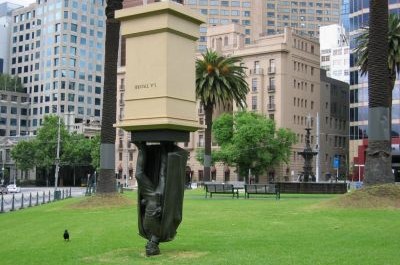 Source
After watching this statue you are definitely thinking that Why this statue upside down? It's a common question, but maybe there is serious reason present behind it.
5. Angry bull
Source
It's a very horrified statue. You can watch a bull in action. It looks like an actual bullfighting moment but it is a statue.
4. Caring hand one of the best sculptures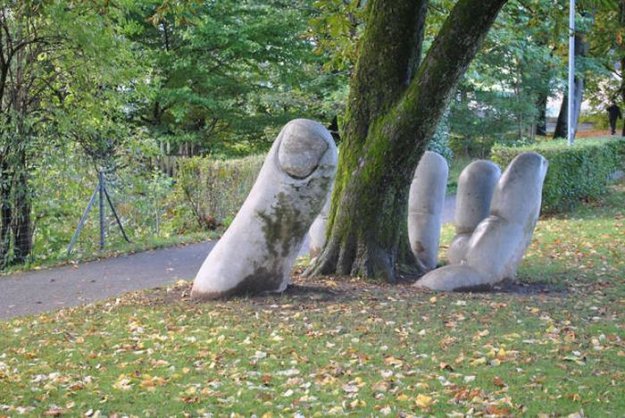 Source
People call this awesome strange statues of the world . This sculpture "the caring hand" located in Glarus, Switzerland. 
3. Sexy Statue
Source
A large beautiful woman statue in a lake. Sound strange but look beautiful. No doubt, first time when you see this feel something different. It's one of famous modern sculpture.
2. Amazing sculptures
Source
Talking laughing in life is very necessary. It's good for health. But have you have ever seen laughing statues? If not then watch this above image. This image shows that people are laughing too much. Very beautifully the expressions are captured in this statue.
1. Giant Monkey
Source
Oh my God, look at this giant statue of the monkey. It's really very big. The thing if you notice in it that how large this statue is but artist creates it with a great intelligence. If you suddenly watch this it looks like a real monkey. In childhood, a grandmother tells stories of such giant monkey but now we can see it in our eyes. No doubt this statue was created by the most Famous sculpture artists.
Top 10 Unusual Sculptures Around The World
1. Giant Monkey
2. Amazing sculptures
3. Sexy statue
4. Caring hand  one of the best sculptures
5. Angry bull
6. Monument to Charles La Trobe
7. This statue sound creepy
8. Stabbed alligator – New York
9. Running Legs
10. The Awakening Sculpture, USA