Time is the world's most precious thing  once it gone never come back again. As with the help of science and technology, human invents many things that save our time when we are in travelling. Many years ago human beings travel on horses, donkey, camels etc. But with the passage of times many inventions took place and change the whole world. Technology brings lot of facilities for us .And no doubt it makes our life more comfortable. If you are interested in Traveling of  Europe then train is the best option. Now you think that why it is the best option. The answer is so simple as the trains already faster than by plane right now,. Yeah its a reality. There are  few bullet trains available to speed your travels. The most basic advantage of fastest bullet train is that by using it you can easily reach on your place and you  can never face traffic problems by using this service.
And its an amazing adventure also. So at least once in life travel on fastest bullet train and you really find it a wonderful experience of life.
10.Alstom Euroduplex
Source
Alstom Euroduplex is a train with big bullet. This fastest bullet train has a capacity of almost 1020 people and they can travel from one place to another according to their desired destination. This is the best journey on train like this as it travels from countries to countries. So that is the great reason majority of people travel on it like as the tourists. No doubt this is the most feasible and safe way for travelling. Tourists can travel on it to different European countries named as Germany, This rocking train can travel at maximum speed of 320 kilo meter per hour. It is an amazing bullet train Europe for tourists.
9.Shinkansen Hayabusa 
This famous and fastest bullet train is known as one fastest speed train of Japan.  The train showed its speed as 400 kilometers per hour. This beautiful and fastest train is manufactured by the two well known companies like Kawasaki and Hitachi heavy industry.
The front portion of this train is designed just like as aerodynamic design. The most interesting and comfortable fact about this train is its bogeys that are designed in such a way that it provides ease to the travelers. The train is risk-free that's why all people who travel in it looks so relax and happy with comfortable journey. As the system of this Japanese train is automatic that's why really make possible the decreases of accidents.
8.TGV Double Decker
Source
NSCF Railway Company has operated TGV Double Decker. It travels with the speed of 300 – 320 kilometer which is the maximum speed of this train. It has a capacity of 508 passengers at a time. This train has lower and upper births that is the reasons it has more capacity for passengers. Now, these trains are traveling in France at almost two hundred thirty places.
It travels between Masiley and Paris. Really an amazing train service that traveled in many towns and cities of France. Whenever you got chance of visiting France just take travel on this train and you really feel the comfort zone in this superb train.
7.ETR 500 Frecciarossa
ETR 500 Frecciarosso train has the potential of about 60 kilometer per hour. This fastest bullet train traveled from Rome to Milan for the first time.  The trains are luxurious and have cool interior for people to travel with sense of relaxation. ETR 500 Frecciarossa has four special cabins. These cabins are Executive Class, Business Class, Platinum Class and Standard Class. There are many better facilities available in this train as the cabins of are sound proof and also they have a facility of Wi – Fi with free of cost.
6.THSR 700T
Source
THSR 700T is a train from Taiwan and it is one of the fastest bullet train. As the whole world admit this fact that the best electronics are made in Japan. This stunning designed of train is made for to travel between Kosyung and Taipei. It travels with a speed of 300 kilometer per hour. The outstanding thing is that it has shortened the long distances to only 90 minutes that is tremendous. 
5.AGV Italo
For the craziest train journey just come and travel in AGV Italo. Just like a magic It travels with a maximum speed of 360 kilometer per hour. This fastest bullet train is manufactured by a company of France known as Astlom. This fantastic train service travelling route from Napoli to Rome to Friange to Bologra and then Milano. The wonderful fact is that the distance between Rome and Napoli is 189.7 kilometer and  It completes this path in around one hour. Just awesome. The superb  part about the train is that it is made up of such material, that its 98 percent can be recycled, making it accommodating for our environment. That's really stunning.
4.Siemens Velaro E / AVS 103
This train travels for more than 350 kilometer per hr. It travels between Barcelona to Madrid and it is really a great invention. The design is so attractive and no doubt very comfortable. This train covers 504 km in 2 hours and 30 minutes. Almost  404  people traveled in it.
3.Talgo 350
Source
Talgo 350 travels in between Madrid and Barcelona situated in Spain. The highest speed of this bullet train is 350 km /hr. These train has 12 passenger cabins. The interesting fact is that it is designed in a way to handle the pressure of air. Seating facilities are available. Named as bistro class, club class, coach class and first class. You really enjoy traveling due to the facility of having  an audio – video screen with every seat which makes traveling more enriching and fun. 
2.Harmony 380 A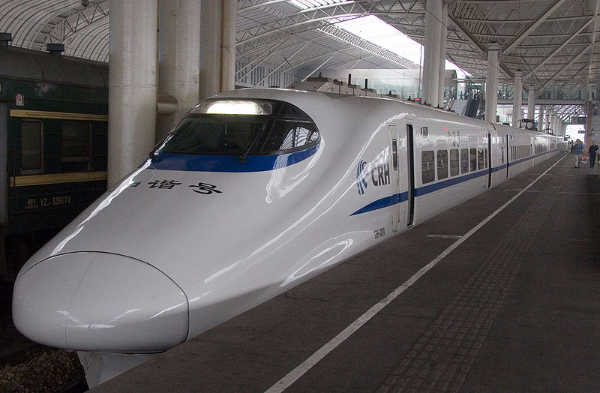 Source
The world's super best train is here you watch. It is a train that travels in China. This train travels between the two great cities Beijing and Shanghai. Chinese technology is really admirable by whole world there electronics are great. In this train the manufacturing company really took great efforts to make it very good for passengers. It can accommodate up to 494 passengers in it. Many facilities  passengers like lamp, electronic display and power port are available.
1.Shanghai Maglev
Shanghai Maglev is in the list of number one fastest bullet train. Its really a great revolution on this planet. By traveling on this you really got what is the meaning of fastest bullet train in real words. It has a speed of 430 km/hr and 250 km/hr is its average speed. This super fast train is operated by Shanghai Maglev Development Co-operation. 574 passengers can easily travel in it .When you first time Travel on it you feels that you are just like taking a step into the future, a place where technology works magically.So don't miss the chance of traveling on this high-speed train in world where you can feel the meaning of adventure.
Read more   
                          Top 10 Heart Touching Features About Neelum Valley
Top 10 World's Outstanding And Fastest Bullet Train Service
1.Shanghai Maglev
2.Harmony 380 A
3.Talgo 350
4.Siemens Velaro E / AVS 103
5.AGV Italo
6.THSR 700T
7.ETR 500 Frecciarossa
8.TGV Double Decker
9.Shinkasen Hayabusa
10.Alstom Euroduplex