There is a very strong and close relation between jewelry and women's. Mostly women's love to wear jewelry. Today we discuss about the jewelry made by natural fresh flower's. Mostly this type of jewelry is used in the mehndi function. You can wear the jewelry made by flower in different function according to your choice. As there are many shops in market that provide fresh flower jewelry of difference styles and rates. Now these type of jewelry is also very expensive because of the Great demand . This is also a fact everyone cannot afford it. But we have a solution of this problem. Girls why are you not cultivate these flower in your home garden that are used in jewelry.  Its very simple and easy process. You can easily made flower jewelery just by watching some video on YouTube. Only a little place is needed for growing these beautiful flowers. You know these flowering plant not only a way of providing attractive fresh flower but also increase the beauty of your house. Try it once its not a difficult work even you really like it because flower attracts everyone as they are most beauteous creation of God. So dear women's here we display a list of mehndi jewelry flowers.
They are so pretty and there fragrance is quite heart touching. Just by little effort, you can easily make a small stunning garden of these mehndi jewelery flowers. These flowers are not only for mehndi jewelry you can use it on birthdays party, as a gift for your love ones and in many events like Diwali, Christmas, Eid etc. Just remember , anything that is made by own hands is really very special. Just imagine if you make jewelry from your garden flowers it gives you a great pleasure and you can never forget this joyful feeling.  Here you can see the names and images of mehndi jewelry flowers.
10.Marigold dahlia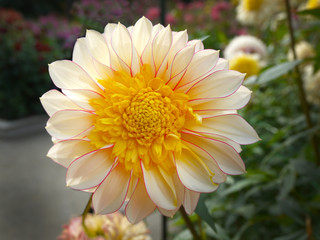 Source
As some time we want some change in mehndi flower jewellery so this flower is the best replacement . Its little feature match with sunflower, curved petals matched with marigold , white color goes with the color of white jasmine. So basically this is a flower with all in qualities that is usually required in the flowers of mehndi jewellery. Marigold dahlia is a best choice for those girls who want some change in their flower jewelry.
9.Marigold
Source
Oh very soft smooth marigold is the heart of mehndi jewellery. Yellow color of this mehndi flower is a traditional color of mehndi dress so its very valuable flower.  No one can deny its importance.
8.Tagetes erecta (a kind of marigold flowers)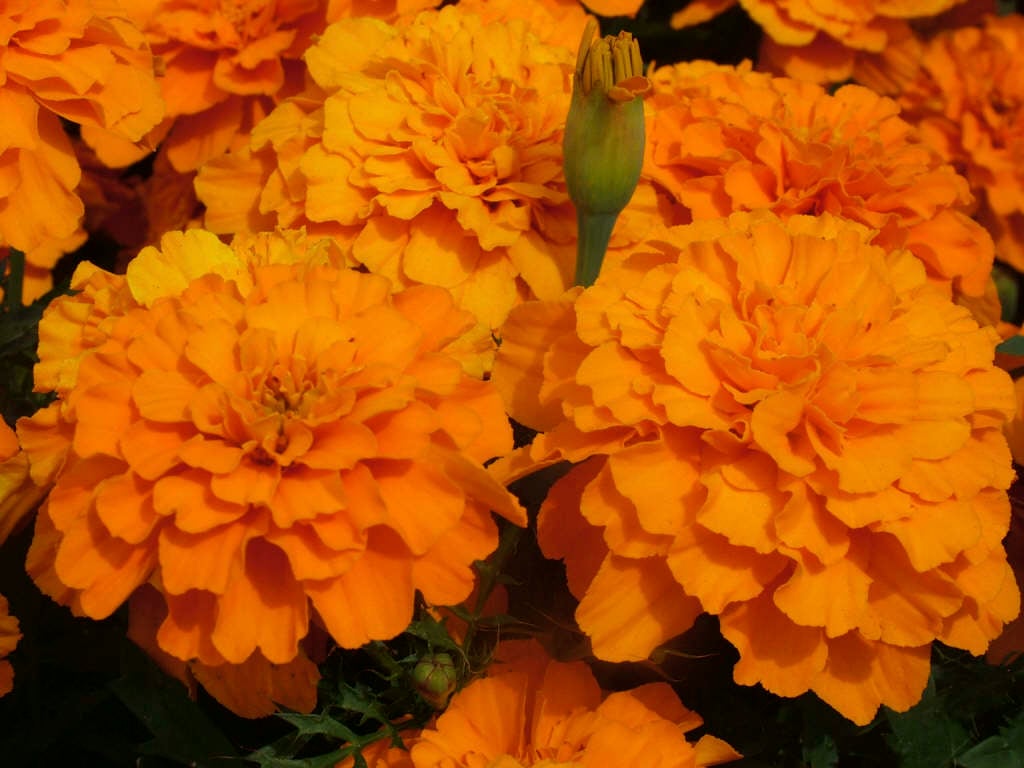 Source
Its a family member of marigold flower scientifically known as "Tagetes erecta". A fantastic mehndi jewellery flower.
7.White Jasmine
Source
White jasmine is the first choice of mehndi jewelry flowers. The reason is that its size is perfect and also its fragrance .  The presence of this flower in your home garden provide you a pretty fragrance all the time .
6.Red Rose
Source
Another name of this rose is love rose because it is a symbol of love. So when it is used in making jewelry it is just tremendous. Guys its a very common but very attractive flower. You can easily grow in your garden. As its jewelry is so classy but the plus point of its jewelry is its heart touching fragrance, just wins the heart and make atmosphere quite ravishing.
5.Yellow jasmine
Source
Beautiful jasmine you can see in above image , its fresh yellow color is a perfect attraction for mehndi jewelry. Shiny dark green leaves look so pretty. Many flowers's grow in one branch, so you can make many jewelry because these flowers grow very fast.
4.Big white puffy flower
Source
Very soft and lovely "big white puffy flower" are the best choice of mehndi jewelry flowers.
3.
White Daisy And Yellow Sunflower
Source
Once you cultivate sunflower in garden then they spread here and there. They are very good looking flower and its petals are used in gajra. White daisy flower are so unique and there flower jewelry is just awesome.
2.Yellow Rose best option for mehndi jewelry flowers
Source
Using yellow rose in mehndi jewelry is a brilliant idea. Fresh fresh yellow rose jewelry is a precious and adorable choice.
1.Iris flower
A very cute alluring flower, when used in jewelry look so unique and stunning.  As it is not so common mehndi flower, as traditional color is quite different from the color of iris flower. With the passage of time many changes occur, Now girls try different color of mehndi dresses same like that they want some change in mehndi flower jewelry. Iris flower is not a bad option. You can try it.

---
"If you really like or even  little bit our article then please let us know and don't forget to drop your comments."
Read More.    Top 10 Fabulous Collection Of Flower Jewellery For Mehndi
Top 10 Superb Selection Of Mehndi Jewelry Flowers
1.Iris flower
2.Yellow Rose best option for mehndi jewelry flowers
3.
White Daisy And Yellow Sunflower
4.Big white puffy flower
5.Yellow jasmine
6.Red Rose
7.White Jasmine
8.Tagetes erecta (a kind of marigold flowers)
9.Marigold
10.Marigold dahlia