Diwali is not only a festival of lights but it is also a festival of delicious sweets. Mouthwatering sweets of Diwali are amazing. A variety of Diwali sweets are made by the women in the house. Women prepare these sweets with lots of love that's why they are so yummy. It's a fact that no celebration in India is done without a touch of sweet. Sweets are the highlighted part of every Indian festival. But when talk about Diwali sweets then you can not found this type of sweet in any part of the world. Whenever it comes to mind " Diwali Celebration " then colors and sweet dishes come to our mind.
Festival of Diwali is a chance of smiling and relaxing your mind from all kinds of stresses. Sweets sharing moments in Diwali is very heart touching. Actually, it expresses our feelings toward our loved ones. So, guys, it's not important that you have to share expensive gifts with your loved ones but the important thing is just your love… So, don't worry about it. On Diwali, if you have nothing to share just share sweets as a gift. It's a brilliant idea for Diwali celebration.
Invite your friends, families to your house and serve them. People mostly think that it is the only festival for lighting homes, streets but actually this festival demands us to share happiness with those who really need it badly. What happened if we do not buy many expensive dresses for Diwali? what happened if we do not buy extra crackers? Forgetting the real enjoyment feeling of Diwali. As you know happiness comes to those who make others happy…
We have to take some steps. Like we have to share our dresses with poor kids, we have to share crackers, lamps, Diyas, with those people who can not afford these things. Believe me once in a life just share your happiness with some poor. You will really feel the actual taste of Diwali. So do a promise with Lord that on this Diwali you can share the happiness and lights of Diwali with needy people. Mostly we prepare different sweets on large scale for Diwali, also we can not eat all these sweets. So, when you pack these sweets as Diwali sweet gift for friends, families just pack some sweets for poor people as well.
By this kindness, God really will happy and proud of you and these are the moments of blessing from God. So, guys! let's start Diwali celebration with sharing smile and by eating Diwali sweets.
Here I am going to show a look of Diwali sweets. Don't forget to add these items to your Diwali celebration.
10. Shahi Tukda
A very tasty, simple and easy to made. Try this on this Diwali.
9. Coconut Ladoos
8. Kaju Katli
7. Patishapta
6. 

Moong Dal Halwa
5. Dhoodh Peda
4. Motichoor laddoo
3. Rasgullah
2. Gulab jamun
1. Paneer Jalebi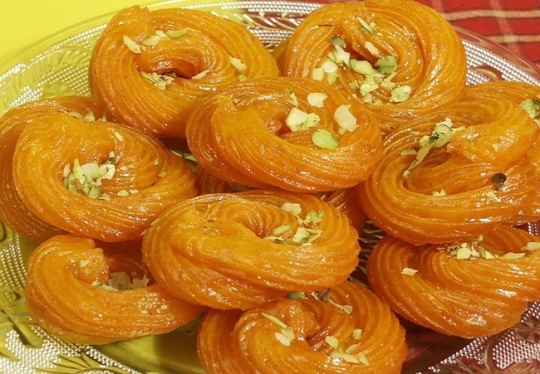 Source
Read Top 10 Stunning Moments Of Diwali Celebration
Top 10 Mouthwatering Sweets for Diwali Celebration
1. Paneer Jalebi
2. Gulab jamun
3. Rasgullah
4. Motichoor ladoo
5. Dhoodh Peda
6. 
Moong Dal Halwa
7. Patishapta
8. Kaju Katli
9. Coconut Ladoos
10. Shahi Tukda