Wedding is special and heart touching event in every girl's life because it really changes the life of every girl. When the wedding event comes in a life of a girl they look very excited. And most interesting thing is that, all the time she thinks about her marriage and her dresses what she will wear on her wedding and how she will be look. The most stunning event of Wedding is the function of mehndi. Without celebrating mehndi function the entire event of wedding seems incomplete. Actually all functions of wedding are lovely but the mehndi function is very close to the heart of girls. This is the dream of every girl to look ravishing on this event. The specialty of this event is that it is very famous in girls. Girls celebrate it a lot. Doing lot of fun, like dance singing song etc. On this special event,  a bride wears a yellow and green dress. The yellow color is very important color of mehndi function. Bride love to wear dress in which yellow color is present, and other colors are also used with it as contrast like pink, red, purple and orange, green, etc. Bride wears the jewelry of flowers on her mehndi function. The other girls that are invited in mehndi functions also wear yellow dress. With the passage of time lot of changes occur in mehndi dreeses and yes they are very attractive. Now  Girls use gharara, choori dar pajama, frock, maxi, palazzo etc as bridal mehndi dresses.
These dresses are embellish with mirror work, gotta, tilla, stones and some other materials. Mostly fashion designers choose green, yellow, orange and pink color for this ceremony. The multi colors also make the outfit stylish and eye-catching. We are celebrating the most favorite function of ladies.Here are most beautiful and Stunning bridal mehndi dresses.
10.Three different colors in bridal mehndi dresses
A number of varieties are available in market for bridal mehndi dresses. Now choice is your's. Choose the colors combination of mehndi outfits that look nice with your face feature and also with your height. If you like to wear jewelry instead of wearing fresh flower jewelry than its OK. Wear any kind of jewelry in which you feel comfortable because this is your event and you have to enjoy it. And make these moments memorable.
9. Modern attractive outfit for mehndi bridal
Source
This dress is really unique and very different. Sometimes girls want something most different and unique also.So they can try this dress. it gives you a glamorize look.
8.Superb bridal mehndi dresses
Very nice and lovely mehndi outfits for brides. In first image, the bride wear traditional color of mehndi function and the cute bangles increase the beauty of bride. Yes the fresh flower jewellery is the heart beat of bridal's beauty. The Yellow frock and the touch of green color is also look very pretty.
7.Dark Green Bridal Mehndi Dress
Source
It is not important to wear a yellow color dress on mehndi event, actually, yellow color is a traditional color that's why it can wear a lot. But you can wear many more color on your mehndi. Just like this dark green dress. Don't worry this is your event and you can wear any color you want.
6.Cutest Combination Of Green And Yellow Mehndi Dress
Source
Yellow is a traditional color and mostly used color combination with yellow is dark green color. So mostly whenever bride wear such color combination it really look sweet and yes very attractive also. Its a fact yellow and green dress combination conjointly uses for mehndi function. This type of color combination in dresses for mehndi looks amazingly dazzling and pleasing to the eyes. As these are very simple and common mehndi clothes but they also remain a part of fashion. You can call these dresses evergreen dresses.
5.Multi color outfit
Source
One of the best mehndi dress designs. Its very easy to wear. With flower jewelry it attracts the eyes of everyone towards you. With cute smile you become a ravishing bride. The touch of different colors make it so adorable.
4.Stunning combination of yellow with different colors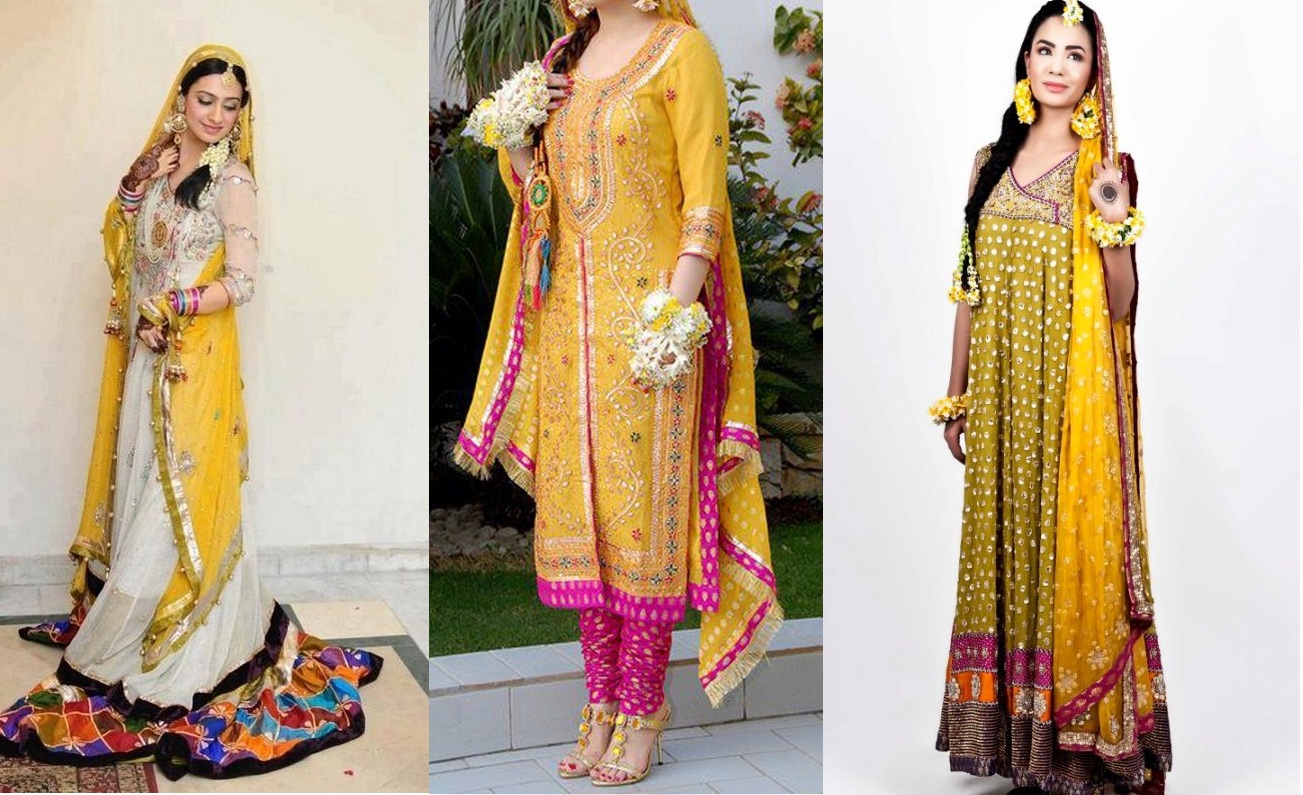 Source
Lots of changing occurs in dresses as time is change now. But no one can deny this fact that bride look really nice and beautiful in combination of yellow with different colors. With high heals, and by using paranda all things make bride so pretty.
3.Heart touching outfit of mehndi Function
Source
Wow this dress look really very classy and yes traditional also. that's why it attracts a lot. The sharp color attract the eyes toward it. The designer make it very beautiful and very awesome. This dress and all are very admirable.
2.One of the best bridal mehndi dresses
Source
The best part of mehndi function is that bride does not apply too much makeup but she shows her real beauty with stunning jewelry of flowers made by fresh roses, sunflowers and motia. Some girls also wear bangles and traditional khussa for extra beauty and with these traditional things they look more attractive and modern. With all these traditional things mehndi dress design for girls look more sexy.
1.Sparkling dress of bridal for mehndi function
Source
Mehndi bridal dresses are very important in mehndi function. It's a day of enjoyment and happiness. On this day all girls becomes so excited that she prepares many things for this special event.  In this modern world, every woman gives priority to latest fashion, therefore, she wants a stylish and beautiful latest mehndi dresses for the function of mehndi. Nowadays frocks are very famous in girls. Specially Frocks become famous in mehndi dress designs of 2016. Its a nice and stylish dress.

---
"If you really like or even  little bit our article then please let us know and don't forget to drop your comments."
Read  more → Top 10 Stunning Eyeshadow Ideas For Brown Eyes
Top 10 Most Rescent Collection Of Bridal Mehndi Dresses
1.Sparkling dress of bridal for mehndi function
2.One of the Best bridal mehndi dresses
3.Heart touching outfit of mehndi Function
4.Stunning contrast of yellow with different colors
5.Multi color outfit
6.Cutest Combination Of Green And Yellow mehndi Dress
7.Dark Green Bridal mehndi Dress
8.Superb bridal mehndi dresses
9. Modern attractive outfit for mehndi bridal
10.Three different colors in bridal mehndi dresses