Festivals are the moments that provide us a beautiful chance to express our love for family, friends and all close relations whom we love a lot. A very heart touching chance; Christmas has provided for all of us to say whatever we want to say. Christmas is a time to forgive, to share happiness and to welcome everyone. Sometimes we are so busy in celebrating happiness and we really forget to send Christmas wishing messages to our loved ones. So don't forget to send Merry Christmas Wishes Messages to all of your loving ones. Share the emotions and increase the beauty of the stunning festival. Stay blessed and Merry Christmass.
10. Christmas wishes for cards
Christmas is a time that brings us closer, the most special time of a year. A family time to share happiness with those we hold most dear to us.
9. Christmas a time of Joy
Love, peace, and joy specially came down on earth on Christmas to make us happy and cheerful. Christmas brings a smile to sad faces. Share heart touching feelings through Xmas messages on cards.
8. A time of expressing heart emotions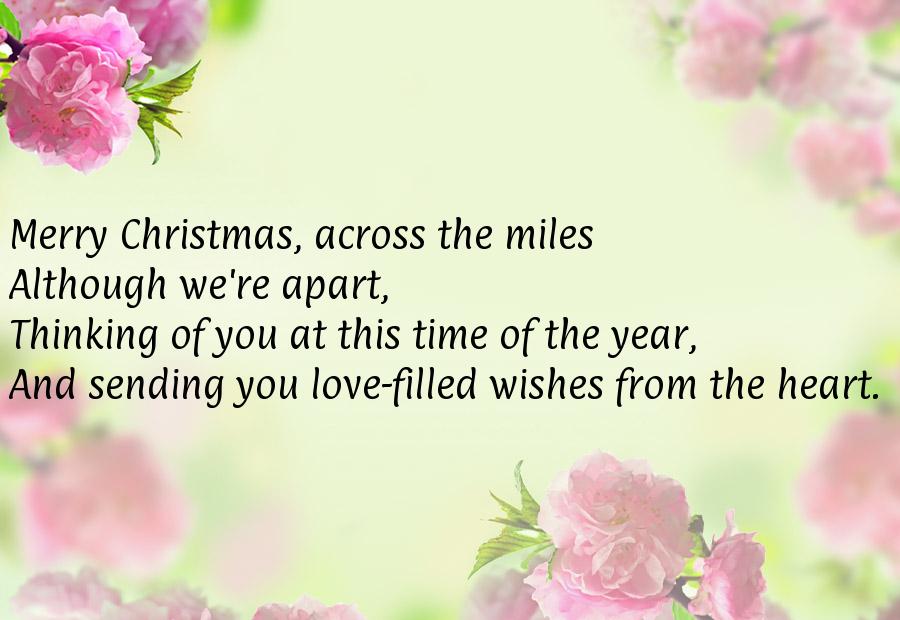 You know this fact that Christmas brings heart very close, so if you love someone then send this message and see the magic of these words.
7. Magical Christmas moments
People call the Christmas time as magical moments because everyone looks happy and the surroundings look so pretty with Christmas decorations and yes the spirit of people is admirable. May all the sweet magic of Christmas conspire to gladden your hearts and fill every desire!!!!
6. A time of faith
Festival of Christmas take care of everyone. Bring gifts for all. The journey of life is full of many twists and turns we know this very well. But my dear! with faith and courage, you shall always shine. So, on this time of Christmas promise to God, you will never lose hope, be hopeful and you will see no obstacle will stop you from reaching your goals.
5. A time of peaceful atmosphere
As we all know the beauteous fact of Christmas is that it brings a peaceful atmosphere in which everyone takes care of each other. This sounds really very good.
4. Merry Christmas Wishes Messages
When we share some special things with needy people it provides the unique feeling in return. Happiness can be multiplied by sharing with needy people. Christmas teach us the lesson of sharing happiness. Send such positive merry Christmas wishes text.
3. Dreams come true
The precious time of Christmas brought some special things for everyone. The dreams of people come true on this day. So don't worry God is watching your struggles and soon on Christmas, you will find your destination. This Christmas wishes greetings increase your joy of happiness.
2. Christmas an event of Hope
If we send Christmas wishes messages of hope to our loved ones then in return will receive love from them as well. You know that hope means life and this festival provide us a hope. A hope of happiness, a hope of making everything good and a hope of fulfilling the dreams we watch for the better future.
1. A time of confessing love
The amazing thing that I love about Xmas is its romantic timing. Actually, the atmosphere provides a perfect time for confessing love in front of your sweet heart. No need for flowers or any expensive thing just send a card with Merry Christmas Wishes Messages. Be confident and you will definitely find your answer is 'yes'.
Read More♥ Top 10 Delicious Donuts That Makes Xmas Dinner So Special
Top 10 Merry Christmas Wishes Messages That Shows In Heart Emotions
1.A time of confessing love
2.Christmas an event of Hope
3.Dreams come true
4.Sharing of happiness
5.A time of peaceful atmosphere
6.Beauteous period of life
7.Magical Christmas moments
8.A time of expressing in heart emotions
9.Christmas a time of Joy
10.Meaning Of Christmas