Everyone has right to look cute handsome and attractive.But sometimes we can not take care of our self. We have become so careless about health and of course for beautiful looks. Even we don't take healthy diet and that's not a good habit. We all admit it that health is the greatest gift of God. No one can deny it. But why we are so careless. At the age of thirty, we look like fifty. So here we decided to introduce some best anti aging foods recipe.
Some of the superb anti-aging foods have antioxidant properties and they also contain healthy fats, minerals, vitamins and many nutrients. Apply these foods to your daily diet. So we all look younger healthy according to our age. First of all, you have to take care ladies and gentleman. Practically apply these foods in your diet and realize that how much injustice we do with our health and with looks.
So leave all busy schedule of life and think sincerely about looking handsome and younger. Following are the delicious and top anti-aging foods recipe and they slow down the aging process as well.
10.Green Vegetables
Green leaf vegetable is very good for health. We have to include these vegetables in our daily life. There are many benefits of vegetables. They are good for our skin, stomach and they also increase blood in our body. Boil vegetables are very beneficial in the diet. So keep eating vegetables and take your body on the way of fitness. Keep vegetables as anti-aging diet.
9.Beet juice
Beet is a very cute looking vegetable with fresh blood color. It is very good for health. Usually, athlete used this in their diet for amazing results. The beet juice has surprising benefits and far this takes beet of medium size and two cups of water. Then put all these ingredients in the blender and mix it very well. Your beet juice is ready in two minutes. Use this juice daily in your diet. Hope your cheeks look pink and you still look young.
8.Papaya Smoothie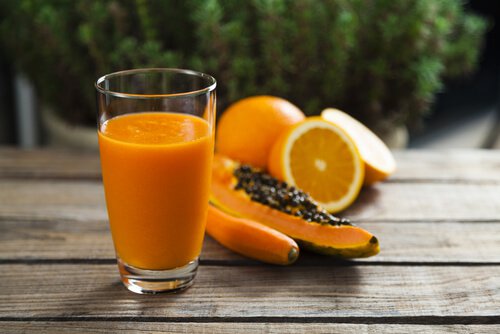 Source
Papayas are very best food for healthy skin. They contain beta-carotene which protects the skin from harmful UV rays and cancer. Let's make Papaya Smoothie. Take 2 slices of papaya and one carrot of small size with one orange. Add them to the blender and when they mix then pour this into your glass and enjoy Papaya Smoothie with anti-aging properties.
7.Berry And Avocado Shake
Source
Berries and avocados both are yummy fruits. Berries shape are so pretty and avocados as well. They are rich in great anti-aging properties. They contain  Omega 3 fatty acids which are great for glowing skin. Are you ready for this getting this treasure of healthy properties? One cup of berry is needed and take one-fourth part of the avocado fruit. Also, use Ground Flax seed two tablespoons. All these ingredients are blended and when true smooth mixture will be prepared than taking this in glass and drink this in your garden.
6.Special lemon water
This is a famous and superb aging drink, containing turmeric which is a powerful antioxidant and carcinogen. You can make it by taking one cup of water, one-third amount of turmeric powder, lemon juice of half lemon and honey. Boil water and then put the turmeric, honey and lemon juice in it. mix it very well when water is hot. 
5.Blueberry smoothie
Blueberries have a number of anti-aging properties.  This is in the list of anti aging fruits. They are rich in fiber, minerals, and the vitamins A, C, E & K. They are so good for diabetics. This healthy and one of the best anti aging foods recipe can be prepared by one cup of coconut water, two tablespoons of chia seeds, one spoon spinach powder, one-fourth cup of blueberries that are frozen, virgin coconut oil only one tablespoon, ice and yeah one-third amount of frozen banana.
So just take coconut water and oil with chia seeds, spinach powder and start blend in a blender. Then add in this mixture the frozen banana and blueberries. Again blend it. After blending pour some ice according to your choice and enjoy a yummy healthy smoothie.
4.Cherry Shake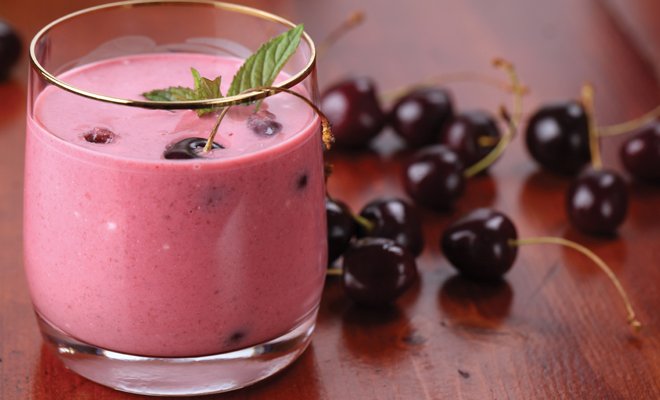 Source
Cherries are great for skin due to their anti aging properties. For most beneficial and best anti aging foods recipe are made by these ingredients, half banana, two cups of spinach, one cup of cherries, two tablespoon flax oil, and one and a half cup of coconut milk. Simply take all these in a blender and blend it very well and your shake is ready for giving you handsome looks.
3.Green Smoothie
This cute smoothie made up by vegetables that give special and surprising anti-ageing punch. Let's start this smoothie. Take two tablespoons of lemon juice, one and a half cup of fresh water, one banana, one chopped apple, seven cups of chopped spinach, two stalks of organic celery and only one head chopped organic lettuce.
Now take a blender and add lettuce to it and start blending but keep in mind blend it at very slow speed. When the mixture gets smooth add apple and celery in it and makes the mixture of all this. after mixing put banana and lemon juice in it. so your smoothie is ready for service.
2.Detox Tea
Source
Most people love to drink tea. For keeping this in mind from all best anti aging foods recipe we bring one the best thing for you "detox tea". It really helps in banish wrinkles. Come on and taste it at least once in life.
One little piece of ginger is needed, Honey, cayenne pepper, Lemon juice two tablespoons and one cup of water. First of all, put ginger in a water and start boiling on slow flame. after few minutes pour this into a cup and leave this for cooling. And then add the cayenne pepper, honey and lemon juice for special taste. Now you can drink this Detox tea.
1.Kiwi Spinach Smoothie
One of the best fruit good as best anti aging. Its taste is so delicious. It is the national fruit of China. You can get the benefit just by little effort. Take two Kiwi peeled and halved, one and a half cup of almond oil, One tablespoon chia seeds, one-fourth cup of ice cubes, two tablespoon yogurt(Greek), vOne banana and in last one cup of fresh spinach. You know Spinach is similarly high in vitamin C and vitamin K.
When kiwi and spinach join together, two of the best sources of vitamin K will definitely give awesome results. combine all these ingredients and blend until they smooth. Within few minutes your one of the best anti aging foods recipe ready.

---

"If you really like or even  little bit our article then please let us know and don't forget to drop your comments."

Read More      Top 10 Best Yoga Poses For Women's
Top 10 Impressive And Best Anti Aging Foods Recipe
1.Kiwi Spinach Smoothie
2.Detox Tea
3.Green Smoothie
4.Cherry Shake
5.Blueberry smoothie
6.Special lemon water
7.Berry And Avocado Shake
8.Papaya Smoothie
9.Beet juice
10.Green Vegetables