Jewelry has the power to be this one little thing that can make you feel unique. So if the jewelry is made by natural fresh flower than it makes you to feel special and precious. Natural flower's are the creation of God and in this stunning creation there is no fault you can see, Neither in color not in design. In Pakistan and India the wedding start with the lovely event of mehndi. Girls just crazy about mehndi function. If we say that mehndi event is an event only for women's than its not wrong. Girls wear mehndi on hands, wear naural flower jewelery and sing songs ,dance and do lot of fun on this event. The bride on mehndi function look so adorable . Girls we want to make your mehndi function so special , especially for bride here we have a list of superb list of fresh flower jewellery designs. Hope you like it and share with us about the design you like most. 
10.Attractive flower ring and bracelet
Very beautifully designed flower ring and bracelet. Red rose and white jasmine is used. The red rose petals in ring is just superb. The hands with beautiful mehndi look so pretty.
9.Marigold necklace and gajra
Source
When you see first time the fresh flower jewellery for mehndi . In this style mention in above images you really like the idea. The necklace is quite awesome. Looking very cute and no doubt its a brilliant choice.
8.Jasmine pazeb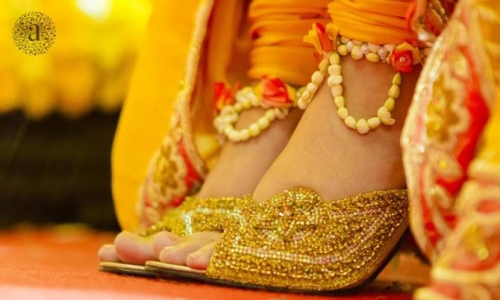 Amazing how classy it look. Yes this is pazeb and one of the most lovely part of mehndi jewelry. Never forget to wear this on mehndi function.
7.Jasmine jewelry with the touch of iris flower
Usually the traditional color used in fresh flower mehndi jewellery  that is yellow and white. But you can change it according to your choice. So what's the plan .I have an idea as white and purple color combination is a very nice theme. So why you not try it. Actually its unique and stylish.
6.Stunning fresh jewelry
The idea of using different kinds of flower in fresh flower jewelry for mehndi is a nice one. Because it is quite attractive. Some changes in traditional mehndi jewelery is looking good. So girls you can use different flower in jewelry but for this wear a simple yellow dress so your jewelry goes well on it.
5.Complete mehndi jewellery set
This is a full set of flower mehndi jewelery . Simple but beautiful. Very decently designed and no doubt ,it is  one of the most adopted fresh flower jewellery designs.
4.Classy jewelry
Actually this is a very classy and modern fresh flower jewellery designs. Very heart touching it seems. what a brilliant idea of using these pretty flowers.  After watching this you can only say one word and that is "Ravishing"
3.Simple and common jewelry
The girl in above image look pretty in the fresh flower jewelry. actually this jewelry is little heavy.but look nice.
2.White rose jewelry
Just stunning . The use of white rose is really sound lovely. I think it can easily designed. And the touch of red flower is outstanding. 
1.Cute jewelry of flower
With light makeup when a girl wear fresh flower jewelry on mehndi, she look like pretty fairy. How many expensive jewelry you can wear but it can never compete with natural fresh flower jewellery. The fragrance and soft petals of flower when used in making  jewelry look so beauteous. 
Read more → Top 10 Artificial Mehndi Flower Jewellery Designs
Top 10 Fresh Flower Jewellery Designs For Mehndi Function
1.Cute jewelry of flower
2.White rose jewelry
3.Simple and common jewelry
4.Classy jewelry
5.Complete mehndi jewellery set
6.Stunning fresh jewelry
7.Jasmine jewelry with the touch of iris flower
8.Jasmine pazeb
9.Marigold necklace and gajra
10.Attractive flower ring and bracelet