Singapore is consider as one of the great cities of the world. Singapore is a perfect place to visit. The beautiful city with neat and clean atmosphere and many best tourist destinations make it a perfect place for enjoying life. Stunning beaches which pose as the major attractions for any tourist are also present in this island country.
The tremendous scenic landscapes is also one of the top attractions of Singapore. This city offers you an adventure with the wild where you can closely observe the wild animals in their natural surroundings. Another interesting thing is if you are a party animal means you love parties then don't worry you can enjoy the lively and happening nightlife of this place.
Delicious variety of yummy dishes also act as a mode of attraction as you can either satisfy your appetite with the delicious street foods. For trying something new than try some food of exotic restaurants.
Singapore promise to all tourist that any part you visit of this country you are kept busy with endless entertaining parts. The country is well famous for its adventurous nightlife, delightful shopping and unique foods. Singapore is a regional hub for shopping. That's why women's love this a lot. So don't waste time and lets go and see the information about top 10 best tourist destinations in Singapore.
10.Singapore Flyer
The stunning experience if you want to add in life memories than you have to visit Asia's largest wheel known as the" Singapore Flyer". This giant flyer is situated  in the heart of downtown Marina Bay. The lovely moments and really adventures thing in Singapore is this flyer.
From this flyer you can take overall view of entire island. The superb ocean in just front of your eyes the waves and all looks are just tremendous. This flyer has 28 air-conditioned capsules. These capsules have high quality of decoration and dining of course for the irreplaceable memories of visitors.
The view of Singapore from flyer is so attractive at night, the lights from surroundings, the jumping waves all look so romantic. For a special proposal to your girl friend this is a unique option. The services of the capsule of flyer are so cool and admirable. Create some romantic moments as Singapore flyer is best place for your beloved ones. 
9.Marina Bay Sands
Source
This is an integrated resort present in the front of Marina bay in Singapore. This is known as best tourist destinations in Singapore from all over the world. Marina bay sands hotel  has world's largest rooftop infinity pool, fa-bolus  views of the city with luxury accommodation. The rooms are highly decorated, a private bathroom and a mini bar.
Hot drinks are easily available,Delicious food of many kinds. The most attractive thing is that you can really enjoy the  Panoramic views of the city  from the rooms also. All facilities are available here like, Fitness Room, Gym, Swimming pool, Casino, Garden, Nightclubs, Salon,  Spa, Child Pool and many more like that.
Marina Bay Sands is the Asia's leading destinations for leisure, entertainment and business also. This wonderful Marina Bay Sands integrated resort  has luxury hotel, restaurants, an endless collection of shops, largest convention center of Asia, theater, an Art Science Museum and other entertainment centers.
In short every luxuries of relaxation ,enjoying are available here. The Sky Park  of this resort has the world's longest elevated attractive  swimming pool. and it is located on the top of marina bay sands hotel. from here you can watch  the awesome view of Singapore perfect time of enjoying the view from Singapore from sky park is the evening time . And see from your own eyes the ravishing view of sunset.
8.Buddha Tooth Relic Temple and museum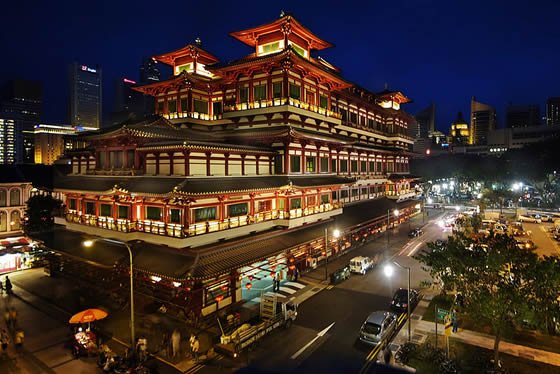 Source
This is temple known as  "Buddha Tooth Relic Temple". It is a religious religious place and that's why it is in the list of best tourist destinations. As it is a Buddhist temple present in the Chinatown of Singapore. The temple is Popular for its alleged tooth from Siddhartha Gautama, the founder of Buddhism religion. The building has 4 store's.
There is a museum in third storey. The most attractive  highlight of the first floor is the Hundred Dragon Hall and the Avalokitesvara Hall. Delicious food that you eat in this temple can never taste anywhere. Refreshment area is present in the second floor. The building of temple is so beautiful and many tourists and the follower of Buddhism visit here every year.
7.Singapore Botanic Gardens
Source
The special gift from God for Singapore are" Singapore Botanic Gardens".There are many rare trees in the garden that increase the beauty of garden and good for human beings. the main heart touching attraction of gardens are national orchid garden.Tourist loves to visit this special garden and take selfies with their love ones.
People who lives near the garden gets many benefit like they came early in morning for jogging, walking and many other exercises they perform in this green an peaceful atmosphere. To look green plants at morning for some minutes daily are good for eyes and take breathe in clean air good effects on our lungs. These gardens had historical background.
The special thing about this garden is that it daily opens at 5 a.m to 12 at mid night. Its so cool and romantic. Every year the visitors of this gardens are almost 4.5 billion. All this make it one of the favorite and best tourist destinations in Singapore.
6.Night Safari.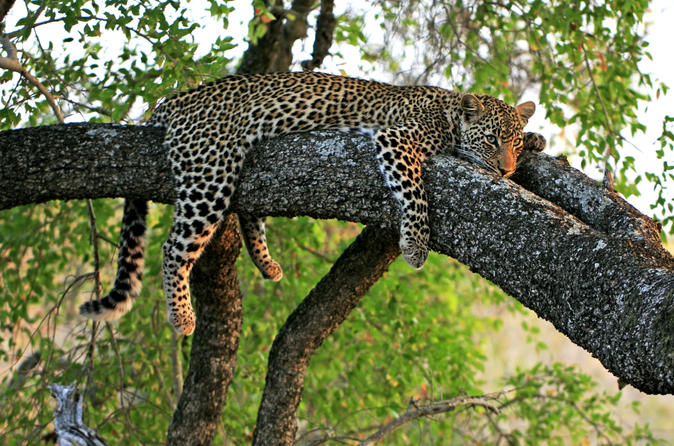 Source
Mostly people love to watch wild life. But it can not be possible for everyone to go in Africa or any wild life forests in world. But for all animal lovers there is an attractive and amazing choice for you.Are you ready than just come and watch best tourist destinations in Singapore and Night safari is one of them.
Here you can see animals of different kinds and all your surroundings sounds like that you are in a jungle where only you and your passion of watching wild life is present.  Just imagine the moon light and time of night also no fear how excited adventure of night safari in Singapore. Singapore Zoo is home to over 3,600 creatures including some rare and also endangered species.
The major highlights of the zoo include orangutans and a reticulated python. The Night Safari has over 1,200 animals from 110 exotic species. tiger, striped hyena, golden jackal, cape buffalo, blue sheep and the rare greater one horned rhinoceros are but some of the animals you will see.
The Night Safari covers an area of almost 40 hectares of secondary jungle . A tram ride, upon arrival at the Night Safari is the easiest way to familiarize you with the large grounds. At the end of the ride, feel free to stroll and take a closer to look at the animals.
The sound of crickets and owls and the chance to see the tigers or hyenas feasting make for a truly memorable experience of life. Tourists capture these moments with wild life in the shape of selfies.
This adventure of watching your favorite animal can never ever forget in life.
5.Clarke Quay
Source
This is a  historical riverside quay  present in Singapore, situated along the Singapore River. This beautiful quay is situated upstream from the mouth of the Singapore River. On the quay  many buildings, restaurants, hip cafes, clubs spas are present.The beautiful phase of quay you can watch at night, the surroundings are full with lights.
Clarke Quay offers visitors a great variety of alternative things to do for fun. Clarke Quay is most popular for its outstanding waterside restaurants and exciting collection of bars and clubs.
4.Gardens by the Bay
Source
Gardens by the Bay is a most good looking natural  park spanning 101 hectares (250 acres) of reclaimed land in center of  Singapore,  This park consists of three waterfront gardens name as Bay South Garden, Bay East Garden and Bay Central Garden.All the scenery look like a part of heaven.
Whenever you get the chance of visiting Singapore don't miss the chance of watching this stunning out class lovely gardens. No doubt Singapore is best vacation destinations of world fr relaxing mind and soul.
3.Raffles Hotel
Raffles Hotel is stunning hotel look like a palace. This is a colonial-style luxury hotel of Singapore. It was established by Armenian hoteliers, the Sarkies Brothers, in 1887. This is the most luxuries and tourist staying hotel.
This epitome of luxury boasts 15  wonderful restaurants and attractive bars. The lobby of the main building is open to the public while the hotel museum is hidden away on the 3rd floor. Tourist loves the food served here. The services are very high class and well maintained. As there are many luxuries hotels in Singapore but this is so unique that's why this is known as best tourist destinations of Singapore.
2.Orchard Road
Orchard Road is just like a great street. This is  a 2.2 kilometer-long known as entertainment hub of Singapore. The area is a major tourist attraction. Today's this attractive and impressive destination is the home of 22 malls, 6 department stores, and a whole host of hotels, restaurants and bars.
At night the lovely scene of this road full with colorful lights. All this express the beauty of life. Take the taste of delicious food here. Every single mall on Orchard Street boasts has its own food court.For shopping and for beauty treatment this is the best place.
1.Resorts World Sentosa
Resorts World Sentosa  are the Asia's ultimate  stunning  and best holiday destinations resort .Situated on  island of Sentosa Singapore. Island of Sentosa has superb and ravishing beaches and untouched tropical forest, along with fine restaurants and spas.
The entertainments you can enjoy here just like butterfly park, a huge aquarium with dolphin lagoon, two state-of-the-art experiential movie theaters, and many more you can't imagine.Youngsters call this island a dream island of all time favorite to watch.
This is called the most visited and best tourist destinations just because of variety of attractions and entertainment hot spots. It can be noticed that this is the favorite place of all age groups. Due to the presence of water slides and attractions. A good news for those who are the craziest fan of dolphin.
Because here you can get the chance to swim with this stunning creature as Adventure Cove is also the home of Dolphin Bay. Equarius Hotel is the best hotel as it is near to Adventure Cove .Numerous activities are here for taking the real taste of life and when you get tired there are lot of spas whee you for relaxation. Singapore is the list of most  prominent  and best vacation spots in the world.
Read more  ⊃       Top 10 World's Outstanding Fastest Bullet Train
Top 10 Best Tourist Destinations In Singapore
1.Resorts World Sentosa
2.Orchard Road
3.Raffles Hotel
4.Gardens by the Bay
5.Clarke Quay
6.Night Safari
7.Singapore Botanic Gardens
8.Buddha Tooth Relic Temple
9.Marina Bay Sands
10.Singapore Flyer