Diwali is known as the Festival of Lights. A festival of sharing happiness. This festival is celebrated in the honor Rama-Chandra, the seventh avatar. According to Hindu religion, on this day Rama returned to his people after 14 years of exile during which he fought and won a battle against the demons and the demon king, Ravana. Diwali is also famous by the name Deepavali. Five days celebrated a festival of lights,  by millions of people across the world. Every year the date of Diwali changes because its date is calculated according to the position of the moon and the Hindu lunar calendar. Here we in this article count a list of top facts about Diwali Celebration.
It's a day of the victory of goodness. Before Diwali night, people clean and decorate homes, streets light up Diyas inside and outside of their home. All the five days of Diwali are very special. The first day of Diwali is considered as the luckiest day of all the year. People buy gold, silver and precious stones, ornaments and utensils on this day. that's why it is known as Dhan Teras. The second day is commonly known as Choti Diwali. The third day is actually the king day of all five days of Diwali, It is actually the Diwali day. When Goddess Lakshmi is worshiped, along with Lord Ganesha. On this day the whole India light up with millions of sparklers, crackers, and fairy lights. People visit temples, gurudwaras. They also exchange delicious Diwali sweets as prasad. The fourth day is famous for Govardhan Pooja. This day has its own importance, people worship their instruments, arms, and machinery.
The fifth day of Diwali festivals celebrated as the Bhai Dooj. This is a very heart touching day. On this day of Diwali, brothers visit their sister's house and sisters prepare sweets especially in honor of their brothers, wishing a long, happy, healthy life and great success for them. It's the best day for celebrating the beautiful relation of brother and sister. In short, Diwali is a festival that brings a smile on faces and gives a memorable moment of life. So guys happy Diwali and here we discuss some Beauteous Facts of Diwali celebration.
10. Shopping for Gold jewelry 
Diwali celebration gives the best chance to women for shopping. On Diwali, women buy a gold diamond, silver jewelry because this festival is considered very lucky for this shopping. On the whole year, this jewelry will be saved and bring a happiness to you. Women are very excited for Diwali as all know that how much women's crazy about jewelry.  So you can say that Diwali brings a lot of happiness, especially for women.                                                                                                                                                                                          
9. Family function
Diwali is a superb festival in which families spend time. On this day everyone looks happy and do a lot of fun. This is a festival on which all members of a family do pooja together and pray for happiness for their loved ones.
8. Diwali gifts for loved ones
Actually, gifts are the best way to express love. On this day people share gifts and increase the beauty of this event. People use different gift ideas for Diwali.
7. Kids celebrations
The most attractive part of this festival is the smiley face of kids. Kids are very excited on Deepavali. New dresses, crackers, delicious sweets, all these things increase the excitement of kids. They receive a lot of gifts from their parents and loved ones. There smile is a beautiful Diwali gift for their parents. On Diwali night, everywhere you can see light and it is really very good looking and worth watching.
6. Pooja thali
People do a lot of prayers on this day. They do 'Lakshmi Pooja' and pray to God for the better future of their loved ones. Women are very busy to this day. They decorate their pooja thali with so much love and care. They want to show their love for this event and in front of God as well. So it's an amazing event.
5. Bhai Dooj
The relation of brother and sister is one of the most beauteous relations of the world. Sometimes, we become so emotional whenever we talk about this relation. Diwali provides a stunning opportunity to express your love for brother and sister. On this day, especially brothers meet their sisters, give them gifts and tell them that how much they love their sisters. Sister's pray to Goespeciallyly for a successful life of their brothers and makes delicious sweets for their sweet brothers.
4. Diwali bright Environment at Night
The night of Diwali seems so bright due to the light decoration in houses, homes, and almost everywhere in India. This brightness removes darkness from your life. It's a very lovely adventure the whole night look like a stunning dream.
3. Diwali Diya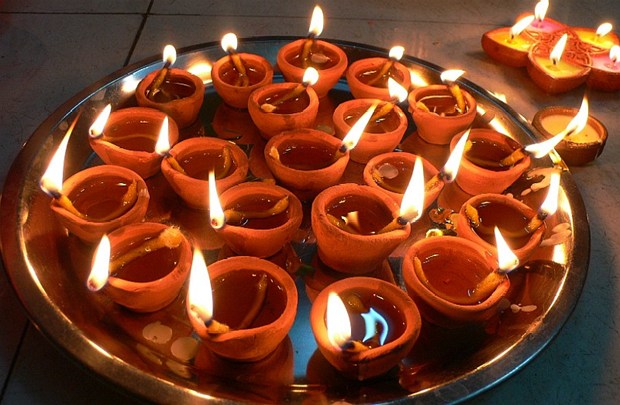 As we know that Diwali is a festival of lights and yes the Diwali Diya is its backbone. As many candles, lamps are available in the market but till Diwali Diya has its own special importance and value. Without Diwali Diya, the yard's lighting decoration can be incomplete.
2. Rangoli an Important part of Diwali celebration
The wow factor of Diwali celebration is the house decoration with rangoli art. It's very charming art that attracts the eyes of everyone. Women make this with full attention and yes with their love. The house without rangoli looks so ugly, especially on Diwali. Different colors of rangoli look like a rainbow. You can call this festival 'a rainbow event' because many colors you can see here and there.
1. Diwali sweets
Mouthwatering dishes are the major items of Deepavali. Colorful sweets are prepared at home. There fragrance and taste can never describe in words. Most common and famous sweets of Diwali are Rasgulla, Jalebi, Gulab Jaman, kheer, barfi etc. Don't forget to share these sweets with poor needy people because the actual taste of  Diwali celebration we only realize when we share our happiness with those needy people. So share your happiness and God will give you much more than you can never even imagine. Stay blessed and Happy Diwali.
Read More Top 10 Moreish Sweets for Diwali Celebration
Top 10 Beauteous Elements Of Diwali Celebration
1.Diwali sweets
2. Rangoli an important part of Diwali celebration
3.Diwali diya
4.Diwali bright environment at night
5.Bhai dooj
6.Pooja thali
7.Kids celebrations
8.Diwali gifts for love ones
9. Family function
10.Shopping of Gold jewelry